At a fraction of the size of a standard contract, Nanos by Cboe, the lower-stakes option opens the world of options trading to a wider audience than ever before.
Combine Nanos with full access to Tradier Brokerage's Dash, premium trading services, full API access, and commission-free* stock and options trading.
See why active traders use Tradier Brokerage
Your pick of platforms
Explore a rapidly expanding list of integrated trading platforms developed by motivated third parties select one that works best for you, or modify/create new features and platforms.
Full API access
Realtime, streaming APIs at your fingertips — helping you build both simple and complex equity and option orders with an easy-to-use interface.
Customer support
Technology is great. But when you need to talk to a human being, our licensed support staff is available to help.
Pro
FREE for 3 months
Only $10/month after initial 3 months
Commission free option trades*
Commission free equity trades
Developer API access
Access to Web Platform & Mobile Apps
Access to our advanced trading platform:


Tradier Brokerage Dash is simple, yet powerful

Fast
Time is money! Go from idea to trade within seconds. Tradier Brokerage Dash makes it simple to execute your trades at a moment's notice.
Multiple strategies
Choose between, equity, option, multileg, or combo trading strategies all on the same platform.
Real-time market data
See updates in real-time as they occur. With Tradier Brokerage Dash, there are no buttons to click or pages to refresh, it just works.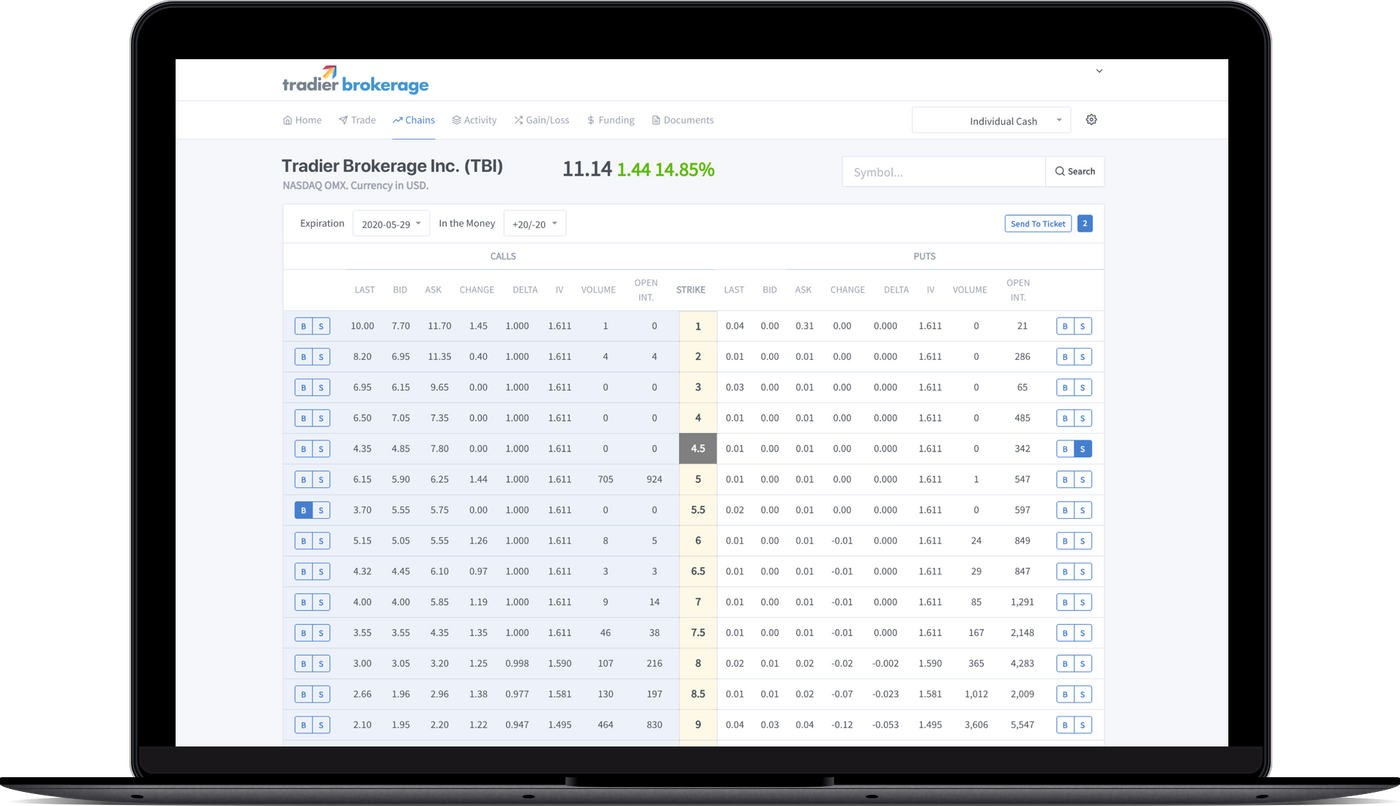 Check the background of this investment professional on FINRA's BrokerCheck
Important Risk Information


Tradier Brokerage, Inc. investment products: Not FDIC Insured - No Bank Guarantee
Systems response and account access times may vary due to a variety of factors, including trading volumes, market conditions and system performance.
Please consider your financial condition, investment objectives, time horizon and expenses before making any investment decision.
Past performance is no guarantee of future returns.
Refer to Privacy/CIP Notification, Business Continuity Plan, Extended Hours Trading Disclosure, Order Routing Disclosure, Day-trading Risk Disclosure Statement and Margin Disclosure.
ETFs involve unique risks and you should carefully consider the risk factors, which are outlined in the prospectus. Exchange trade products such as ETFs and ETNs involve unique risks that should carefully considered before investing. Please read the Exchange Traded Products Risk Disclosure and the SEC notice on Exchange Trade Funds (ETFs).
Options carry a high level of risk and are not suitable for all investors. Please read the Characteristics and Risks of Standardized Options before trading in options.
Disclosures

* Single Listed Index Options are subject to a $0.35/contract commission in addition to any other charges for exchange, OCC and regulatory fees. OCC and regulatory fees apply to all option transactions, including subscription plans. See Fee Schedule for more details.
* Tradier Brokerage Inc. charges for exchange, OCC and regulatory fees. Other fees and applicable minimums may apply see Fee Schedule for more details. Promotions are subject to change at any time. Please contact customer support for details regarding fees for Mutual Fund and Bond transactions.
© 2022, Tradier Brokerage, Inc., an independent subsidiary of Tradier Inc. All rights reserved. Member FINRA/SIPC. The TradeHawk platform is owned and operated independently by Tradier Inc, parent company of Tradier Brokerage. Third party research, analysis and other tools obtained from companies not affiliated with Tradier Brokerage, Inc. are for informational purposes only. Tradier Brokerage, Inc. does not guarantee its accuracy, completeness, or suitability. Supporting documentation for comparisons, recommendations, statistics, or other technical data, will be supplied upon request. Accounts are carried and cleared with Apex Clearing Inc.