Tradier's Virtual Options Summit


in partnership with Cboe Global Markets
June 22, 2022 11:00AM - 4:30PM EST
The Tradier Options Summit will leverage Tradier and Cboe Global Market's marketplace influence and leadership, delivering a centralized platform for both experienced day traders and online trading brokers.
Join our 15+ experts to:
Discuss current day trading trends with industry experts

Discover new stock options trading platforms, apps, and resources

Implement new strategies for stock and options trading
REGISTER NOW AND VIEW OUR AGENDA BELOW: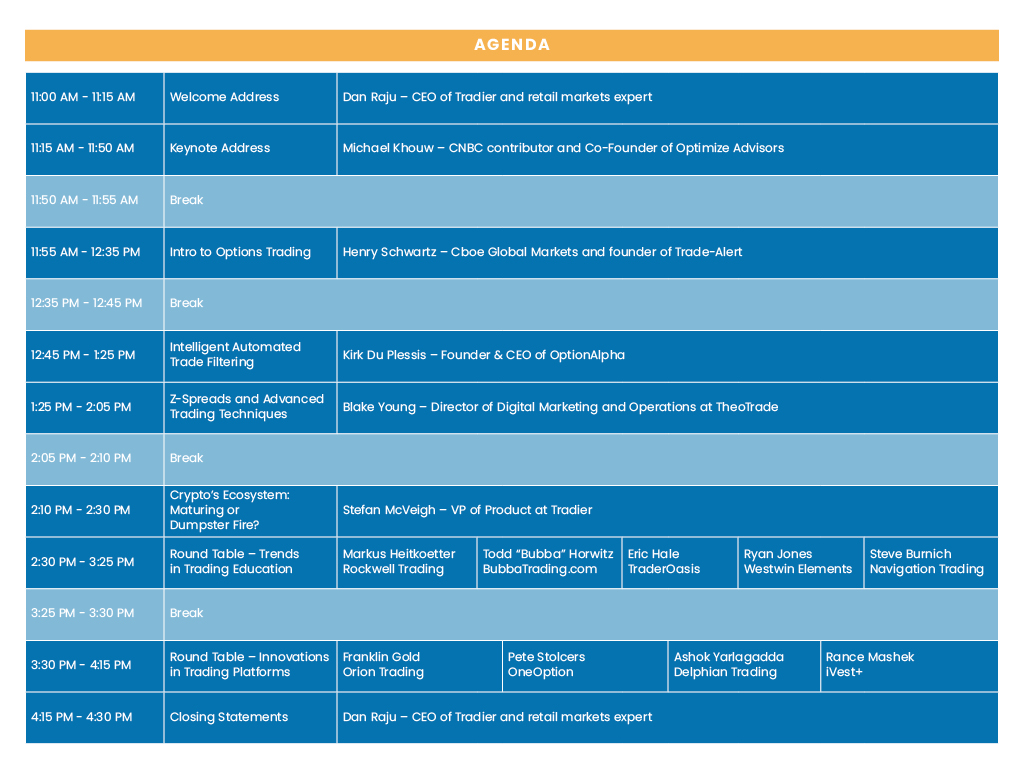 Meet some of the Tradier Options Summit Speakers
Kevin "Lex" Luthringshausen - Event Host
Senior VP Business Development at Tradier, Inc.
Lex is the SVP of Sales and Business Development for Tradier, Inc., and also oversees the continued development and enhancements of the TradeHawk platform. He hosts a regular YouTube broadcast called OptionsBrewTV by Tradier. This show spotlights educators, mentors, and industry leaders in an effort to offer exciting, educational content to the Tradier trading community.
Dan Raju
Co-Founder, Chairman of the Board, CEO, Tradier
Dan is the Chief Executive Officer and Co-Founder of Tradier. Dan has the overall responsibility of Tradier and the company's strategy and direction. Under his leadership, Tradier has grown rapidly from an innovative product to an essential infrastructure fabric that powers 200 plus investing platforms globally and serving some of the most active traders in the market. In his 25-year career as a technologist and entrepreneur, he has launched many successful online retail and financial products.
Todd "Bubba" Horwitz
Chief Strategist - BubbaTrading.com
For more than 36 years, Todd "Bubba" Horwitz has enjoyed a successful career in the financial industry. He began his profession in 1980 as was one of the original market makers in the SPX Trading Pit at the Chicago Board of Options Exchange. He has traded at all of the major exchanges in Chicago and is currently a member of the CBOT. In addition to his trading, for the past five years he has concentrated on writing, education, and a media career.
Rance Masheck
President & Founder, iVest+
Rance, president and founder of iVest+, is a seasoned market educator who is passionate about providing traders with the tools and insights needed to succeed. Prior to founding iVest+ in 2001, Rance worked as an executive helping to develop TD Ameritrade's Trade Architect trading platform. Rance is an innovator at heart, introducing a number of industry-leading technologies that make it easier for new traders to learn and experienced traders to analyze today's markets.
Markus Heitkoetter
Owner & Founder - Rockwell Trading
Markus is a former IBM director who relocated from Germany to Austin, Texas in 2002 and became a full-time trader. In 2005 Markus founded Rockwell Trading in order to simplify the trading process and help as many traders as possible to achieve their trading goals. He is the author of the bestselling book "The Simple Strategy," a book that helps traders improve their trading with a simple, easy to use trading method.
Henry Schwartz
Senior Director & Head of Product Intelligence - Cboe
Henry is senior director and head of product intelligence at Cboe Global Markets' Information Solutions Group. A veteran of equity derivatives markets, Schwartz came to Cboe following the development and the exchange operator's subsequent acquisition of Trade Alert, an options order flow tracker he founded that uses technology to enhance transparency in options market making and trading.
Michael Khouw
CNBC contributor and Co-Founder of Optimize Advisors
Michael is a 20+ year veteran of the financial services industry with broad experience as a strategist, analyst, portfolio manager and proprietary trader of equities, commodities and equity and index derivatives for both buy-side and sell-side firms.
Kirk Du Plessis
Founder & CEO of OptionAlpha
Kirk, as founder of Option Alpha, has been an industry leader in options trading industry for more than a decade and was recently included in the Inc 500 fastest-growing private companies in 2018 with a position rank of #215 and again in 2019 with a position rank of #723. In 2020, the company announced the release of the first public autotrading platform for stocks and options for retail investors.
Blake Young
Instructor Futures, Technical-Fundamental Analysis, TheoTrade
Blake Young has been trading futures for 20+ years. He has been a principal for a Commodity Trading Advisor (CTA), a hedge fund manager (3 different funds), senior currency analyst, and a financial market instructor for 16 years. He has created dozens of unique educational offerings, instructing thousands of new and seasoned traders on the intricacies of trading the financial markets. His favorite trading strategies involve using fundamental analysis to create a posture while using charting to time entries, exits, and to manage risk. He calls his approach "technofundamentalism".
Stefan McVeigh
VP of Product, Tradier
A retail investor advocate, Stefan brings over 13 years of fintech experience across product, marketing, and compliance to the team. His passion for retail investing will help drive innovation across APIs, web and mobile platforms as Tradier moves into its next phase of growth including crypto and futures.
Ryan Jones
Founder and CEO of TradePartner.io
Ryan Jones has 30-years of experience as a business owner in the fintech industry where his companies have created multiple, sophisticated investor analytical tools, hundreds of hours of educational courses, and dozens of unique investment strategies for all types of investors. Ryan's option trading education material and approaches are used as the main course curriculum at the Popular University of Milan in Italy.
Franklin Gold
Co-CEO and Chief Strategy Officer at Orion Trading
Franklin, with 20 years' of experience, meets the needs of active traders, supporting retail investors, and understanding trading markets. His electronic trading strategy for FMR's mutual fund trading desk, led the firm's active trader direct-to-market offering, and acquired and integrated a backtesting / systems trading platform, Wealth-Lab Pro. Franklin also directed the industry's leading award-winning research platform for individual investors and built an online education offering from the ground up.
Stephen Burnich
Co-Founder & head Instructor, Navigation Trading
Steve is the co-founder and head instructor at NavigationTrading. He has taken his passion for investments, to teach others how to take control of their investment accounts. Start earning a part-time income, or learn to trade for a living altogether, using the strategies from this course.
Pete Stolcers
Founder & Options Trader, OneOption
With 30+ years Pete started OneOption, LLC in 2006 to share his research with other traders. During the 2008 financial crisis I got this crazy idea to develop a trading platform. This has been a hard journey, but now I am reaping the rewards. Option Stalker is an incredible trading platform and I could not have developed my proprietary trading systems without it.
Ashok Yarlagadda
Founder at Delphian Trading
Ashok is a software architect and data scientist, founder and CEO of Delphian Trading, and provider of options trading strategy software to design strategies to boost investment. He is also the author of High Probability Options Strategies for Busy People, a guide for retail traders to create models and trade with only 15 minutes of effort per day.
Eric Hale
Founder & CEO of TraderOasis
Eric is the founder and CEO of Trader Oasis Holding LLC, a platform developed for self-directed retail traders. Trader Oasis offers investors professional-grade proprietary software, superior trade execution, and simple flat-rate pricing. Eric is also a partner at stocks and options education company OptionsANIMAL. For two decades, Eric has been a public speaker and writer on the markets. He provides frequent analyses to a community of thousands of followers.
The Tradier Options Summit leverages both Tradier's and Cboe's marketplace influence and leadership, delivering a centralized platform for both experienced day traders and online trading brokers to discuss: